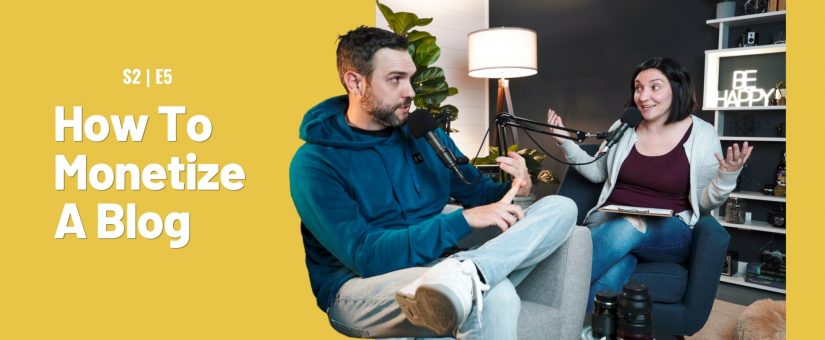 How To Monetize A Blog
Posted by Rhiannon McHugh
On May 12, 2021
In today's episode, we're going to talk about how to monetize your online content.

Whether you have a blog, a website, or buzzing social accounts – how can you take your content and turn it into an income stream?
It starts by creating quality content that people are actively searching for
Cultivating an online audience is a lot of work. They say your first 1k followers will be the hardest to get
Once you have an active audience that looks to you for content, how do you begin to make money?
Voicemail:
"Hey! My name is Kyle, I have a blog FrenchieJourney.com, about French Bulldogs. We have about 113 blog posts up and our blog is making about $500-600/month on affiliate links, but I would love any thoughts from you guys on different ways we can further monetize the site and just take it to a whole other level!"
Let's Take It To The Next Level
Kyle has already seen great success on his blog, so we'll outline a few things Kyle is already doing well in case you aren't at his level yet, and then build on that list with a few things you could do to take things up a notch!
Create Content People Are Looking For: This means researching keywords and search terms that are related to what you do or want to talk about. Then, strategically write about the things people are looking for. It's all about strategy and planning.
Affiliate Links – These are custom links that you can use to generate a kickback from a purchase through a retailer like Amazon. You simply place your custom link to a particular product in your blog and when someone clicks on it and purchases the item you get a kickback for the sale.
Selling Ads – Once you have a certain amount of traffic heading to your website, you can qualify to feature ads on your website. Then you can make a small kickback on the ads that people click and purchase from. This could be done with programs like Google AdSense, etc.
Email Marketing and Lead Magnets – There is no better place to reach your audience than inside of their email inbox. You can gather email addresses by creating a value-packed download on your website and then email them about any other projects or opportunities you have.
Merchandise/Digital Products – You can branch out and design products that would interest your audience such as, calendars, mugs, t-shirts, etc. With Print-On-Demand options, this can be a no-cost way to generate some income.
Social Media & Collaborations – Utilize the networks within each social platform and join groups and "packs" to expand your reach and grow a larger audience.
YouTube Channel – Repurpose blog content in video format. Find your top-performing blogs and make them into videos.
Guest Spots on Podcasts – Like social media, connect with the movers and shakers in the niche space and look to discuss your most popular topics to generate interest and opportunities.
Next 3 Steps
There are lots of ways to monetize your online content with a little bit of strategy and a good amount of effort! If you have a blog or website with lots of valuable content and are looking to make some more money with it, here are a few key steps to take:

Review your numbers: See what your traffic looks like, the engagement you're getting, and make sure you are strategically creating content based on what people are looking for
Link it Up: Start building your affiliate opportunities and adding affiliate links and possibly ads to your website to generate income
Reach Out: Connect with others in your field and start collaborating to cross-promote and build a community
Digitize & Repurpose: Create digital products and repurpose your content for other platforms like YouTube, TikTok, Facebook Groups, Email Marketing, etc.
Recommended Resources