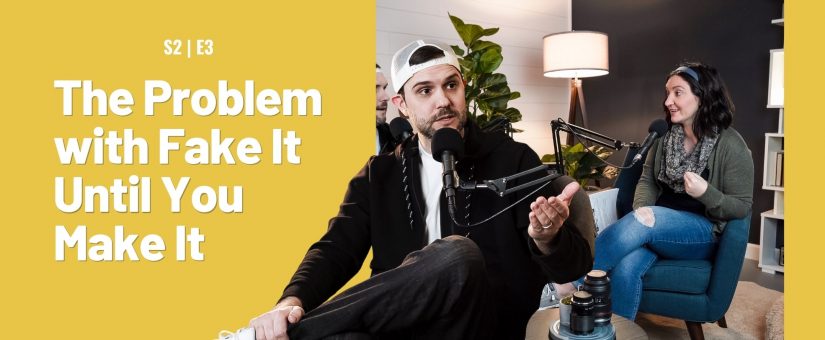 The Problem With "Fake It Until You Make It"
Posted by Rhiannon McHugh
On April 14, 2021
In this podcast episode, we break down the phrase "fake it 'till you make it" and talk about the practical uses and the impractical side effects.
Our three main problems with the idea of "faking it till we make it."
It never ends because there is no quantifiable "making it" period. How do you know when you've made it?
It breeds the foundation for the Imposter Syndrome. Even if you've gained experience, this way of thinking will knock you down into believing that you're not supposed to be here or that you're no good at this.
It doesn't allow you to learn and grow, because you avoid vulnerability.
We talk about the psychology of what happens to your long-term confidence and growth and what you can do to maintain a healthy confidence level.

"Faking it" breeds a long-term identity crisis. You become obsessed with your external image and you end up putting yourself in a lot of stressful situations.

We share stories of things that we experienced when we launched a photo portrait studio in 2013 and how "faking it till we made it" affected our business starting out and as we grew.
The Next 3 Steps to keep "fake it until you make it" in check
Set a goal for when you've "made it". It can be a monetary amount, a certain number of clients, your number of products sold, or even a time frame. It's entirely up to you and your business goals. But the point is to set a tangible goal and allow yourself to say you've "made it" and can stop "faking it".
Take daily action towards "making it". Stop spending time, money, and energy projecting that you've made it and just focus on actually doing the things that put you on course to your success.
Find other ways to build confidence. You can do things like taking courses, networking with peers, and getting client reviews.
Host Bio – Rhi and Pete [Rhi-Pete – now you'll remember] are a wife and husband team who have been in business together for over a decade. They run a creative media agency [Do Something Different Media] that provides strategy and consulting, video production, website development, photography, graphic design, and content writing for small businesses.
Recommended Resources
Leave a voicemail for an upcoming podcast: www.learnit-doit.com/podcast