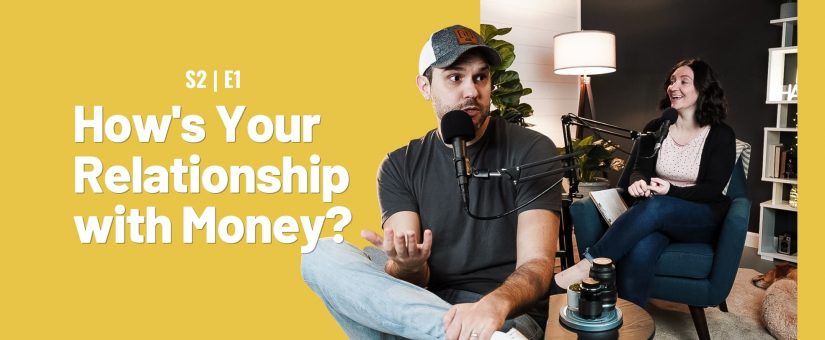 How's Your Relationship With Money?
Posted by Rhiannon McHugh
On March 15, 2021
In this episode, we take a real personal look at our relationship with money, how we can develop a positive relationship, and ultimately break through our current mental barriers.

We kick this episode off by unveiling the new basement studio that we built this winter.

Episode Summary

We tell our story of our own money journey and how we've come from a very disconnected and absent mindset when it came to our feelings and relationship with our bank accounts. Factors like upbringing, values, and personality play a huge role as to why you think, feel and talk about money in the way that you do.

Think of your relationship with money like you're dating:
Are you communicating? i.e. Do you check in to know what's happening and how each other is feeling?
Do you have a commitment to each other?
Do you appreciate each other?
Your mindset plays a huge role in how you will be able to grow to the point of financial success. You don't need money before you make a plan for it.

Cut the ties between your identity and how much money you have:
Your amount of wealth does not change your identity, it changes your circumstances.
Your value as a person is not tied to the value of the dollars in your bank account
[From Jen Sincero's Book] Write money a letter and make a money contract that you're willing to commit to.

Build and hire a money support system – this is the foundation of your financial success:
Are you banking with a helpful partner? When is the last time you've talked to someone from your bank?
Do you have an accountant? It's imperative to have someone that knows your business and can help lower your tax liability and guide you to take advantage of creative tax-savings.
Do you have a financial planner? They will set you up with a plan for saving, retirement, life insurance, investing, and a budget.

This is something you should do before you even "have money". Don't wait for years thinking that you don't make enough, put a plan into action now, even if it's just a budget.

Do you have a lawyer? They will help you with setting up wills, trusts, buying property, etc.
Dissolve your money blocks:
Audit your beliefs and experience with money

A good way to do this is to journal it out

Notice your daily money habits

Are you emotionally buying things?
Do you spend money as soon as it comes in?

Read or listen to books/podcasts about money
Say daily money affirmations
Decide to break up with and start a new relationship with money
The Next 3 Steps

Write a letter to money and air out all of your grievances. Get it on paper and let it go.
Find or develop a money affirmation or mantra that you can say out loud every morning.
Look at your current money support system and see what's missing, or if you need to find people that are more in tune with your needs.
Host Bio – Rhi and Pete [Rhi-Pete – now you'll remember] are a wife and husband team who have been in business together for over a decade. They run a creative media agency [Do Something Different Media] that provides strategy and consulting, video production, website development, photography, graphic design, and content writing for small businesses.
Recommended Resources

Leave a Voice Mail for the Podcast – www.learnit-doit.com
Rhi + Pete VLOG – www.rhiandpete.com
Jen Sincero – "You're a Badass at Making Money"