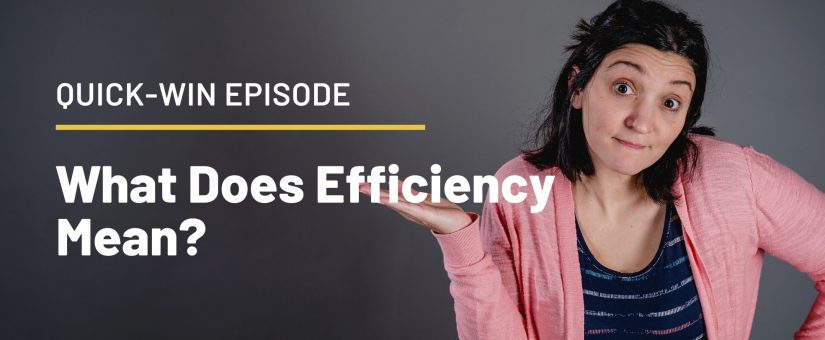 Quick-Win Episode 9: What Does Efficiency Mean?
Posted by Peter McHugh
On August 26, 2020
If you've listened to us before, you know that we are all about efficiency. "Work smarter, not harder" is a motto we live by.

But recently we realized, that not everyone really knows what we mean when we say efficiency, and so today we thought we'd dive into why efficiency is all that matters.

To a business owner, efficiency means getting things done with the least amount of time, money, and energy possible, while still getting the desired results.

Efficiency In Business Strategy
How are you doing inside your business? Are you following a plan or are you shooting from the hip?

If you set goals, do you usually fall short?

Do you have processes and workflows in place across the board?
A great way to improve efficiency is by making improvements to your process and workflow. Finding ways to save time and energy in your processes (like utilizing forms so that you can qualify your leads and spend less time talking on the phone to the wrong people) can save you in the long run. Creating a better workflow means you are producing your product or service faster, without compromising the quality, therefore making it more efficient.
Efficiency is Ongoing
If you do a project for a client and something goes wrong, find out why, and fix that particular issue in your workflow for your very next project.
Over time you'll craft a smooth process, system, or workflow.
Efficiency means more money
We are saving money because something takes less time to do, or we are using fewer resources and therefore it is costing us less to do it.
Overall we're trading less time for more money.
Efficiency In Work-Life Balance

Put yourself in situations that will lead to good outcomes

Don't overbook your time – if you're a person who always runs late, that's a YOU problem. You're just setting yourself up for failure.
Finding Inefficiencies

Where do you see yourself being inefficient in your business? Sometimes it helps to take a time audit and find where you are spending the most time. Find where you are spending the most money or energy, and see if you can brainstorm ways to be more efficient.

Simple Process Change Example

We used to offer weddings, and we would constantly get emails or phone calls asking about our pricing or availability for weddings. Then we made a form on our website to make the process more efficient…saving us the time of talking to people who couldn't afford our services or were getting married on a day we were not available. Then we noticed, we were typically responding to the form submissions in one of 2 ways: we're booked, or we're available and let's schedule a consult. So to be more efficient, I drafted up two email templates that I could customize to save me time in replying.
Quick-Wins
Pay attention to what you're doing and find the inefficiencies.
Use templates, batching tasks, contractors, and software to help solve your problems.
Host Bio – Rhi and Pete [Rhi-Pete – now you'll remember] are a wife and husband team who have been in business together for over a decade. They run a creative media agency [Do Something Different Media] that provides strategy and consulting, video production, website development, photography, graphic design, and content writing for small businesses.
Recommended Resources

Less Annyoing CRM