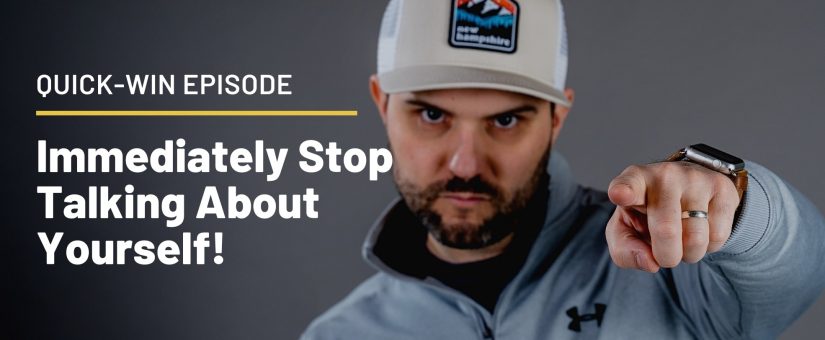 Quick-Win Episode 8: Stop Talking About Yourself
Posted by Alessandra Kaminski
On August 12, 2020
Episode Summary

When a potential client comes to your website, what do they see? Are you talking about you and all the things you know and offer? It's so easy to talk about yourself too much. You feel the need to explain your services, your story, your background experience, etc.

But that's not what people want to see or read when they land at your website or social media pages.

We get it, as a business you feel like it's your job to talk about yourself so others understand your credentials and why you could be a great fit for them…but the harsh truth is – no one cares!

What's more important is getting down to the nitty-gritty psychology of your client. Address The Pains That Your Audience Is Experiencing instead of defining yourself and your services. Meaning, talk about the problems your potential client is having and how YOU can SOLVE those problems for them. Get emotional.

Describe a transformation: the solution to their problem from their perspective. That's where you want to spend 80% of your efforts in your marketing.

Think about yourself when you're hiring someone or buying something.
What are your habits?
What are you looking for in your research?

Immediate solutions, vetted opinions, testimony, brand value
Be a resource to nurture your audience. The only way to nurture a lead into a client is by engaging with them and providing value. You need to have something that your potential clients want. You might think that people want your product or service, but more often than not, what people really want is WHAT your product or service can provide them.
Landscaping Example:
People don't wake up wanting to hire a landscaper, they wake up wanting a beautiful yard. Spend your time describing your client's problem yard. Use your knowledge to become a trusted advisor on the topic of landscaping and how if they hire you they'll spend more time with their family and less time mowing the lawn.

Wedding Example:
Brides don't have the desire to hire a hairdresser, they just want to look good for the wedding.

This kind of thinking is really powerful because oftentimes your potential clients don't even know to look for your services. They are just living their lives and find themselves needing a solution…market the SOLUTION, not a general list of what you offer.

So, think about the marketing and content you've been making and ask yourself…Am I just talking about myself here? If the answer is YES, it's time to flip the script and re-work your marketing messaging.

These are the things you should be utilizing in your marketing to really connect and engage with your audience. Think of how you can provide value for your potential clients and speak to the things they care about – themselves.

We like to keep a Google Doc with these ideas on it so that whenever it's time to write some marketing content, we can refer back and double-check that we aren't just spending all our time talking about ourselves. Hopefully this is something that you can all start to implement in your own marketing to make it a little more effective and a lot more engaging for your audience!
Quick-Wins

Start by listing the BENEFITS your potential clients would enjoy if they hired you or bought your product/service.
List the CHALLENGES you help your clients solve.
Think of the PAIN that causes your potential clients to look for your service.
Think of what your potential clients might be SAYING or THINKING.
Host Bio – Rhi and Pete [Rhi-Pete – now you'll remember] are a wife and husband team who have been in business together for over a decade. They run a creative media agency [Do Something Different Media] that provides strategy and consulting, video production, website development, photography, graphic design, and content writing for small businesses.
Recommended Resources