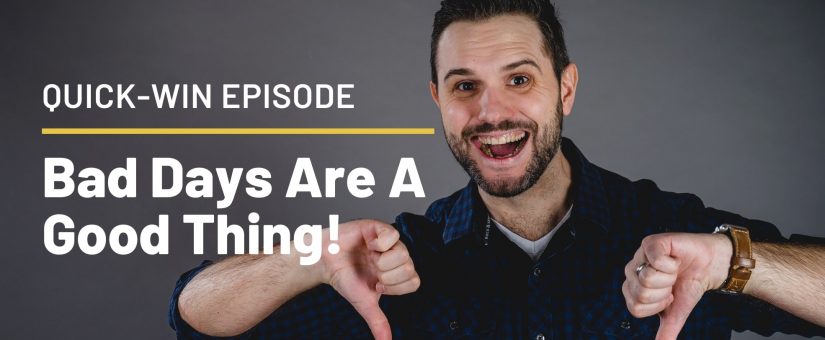 Quick-Win Episode 6: Bad Days Are A Good Thing
Posted by Peter McHugh
On July 15, 2020
Episode Summary

If something triggers you to get into a funk or in a bad emotional space this gives you the opportunity to do a little bit of investigative work.

Hit the pause button and pinpoint the root of these bad emotions or experiences.

We hear a lot about business owners carrying a lot of stress around. We get it, being a business owner is by no means a walk in the park and you're going to have rough patches, but we've all got to realize that we're not in business to cause ourselves stress.

Get to the core of the issue for any particular bad day.

Are your clients causing you stress? If so, what's it about? A process that you control or something outside of your control.

Are you stressed that you don't have enough time? Do a time audit, figure out what's sucking away your day. Usually, it's tied to a lot of inefficient processes that you can easily fix with a simple plan, automation or outsourcing.

Is money your main stress? If so, it's going to be hard to become a successful business owner if you don't have a good relationship with money. Figure out the root of this – is it confidence based? Is your pricing an issue? Do you not have enough clients?

Is it something going on personally? Or your lack of self-confidence? It's easy to let your personal life bleed into your business when you are self-employed. Sometimes when you really look at it, it's personal stress of bills or a lack of time to spend with your family, or maybe even a lack of support or self-confidence that it's eating away at you. This is why personal development is so important for self-employed business owners like us…sometimes we are our own worst enemies!

Moral of the Story – Bad days put a magnifying glass on things that are inefficient and stress-inducing. Once you know the problem, you can work towards a solution.

Quick-Wins
Target the cause of your bad day. If you can do something about it, do it.
Implement changes to your workflow or processes if you're seeing work or client related stress.
Always work on your personal development to stay balanced and level-headed.
Host Bio – Rhi and Pete [Rhi-Pete – now you'll remember] are a wife and husband team who have been in business together for over a decade. They run a creative media agency [Do Something Different Media] that provides strategy and consulting, video production, website development, photography, graphic design, and content writing for small businesses.

Recommended Resources
4 Ways to Use Your Phone to be More Productive Video