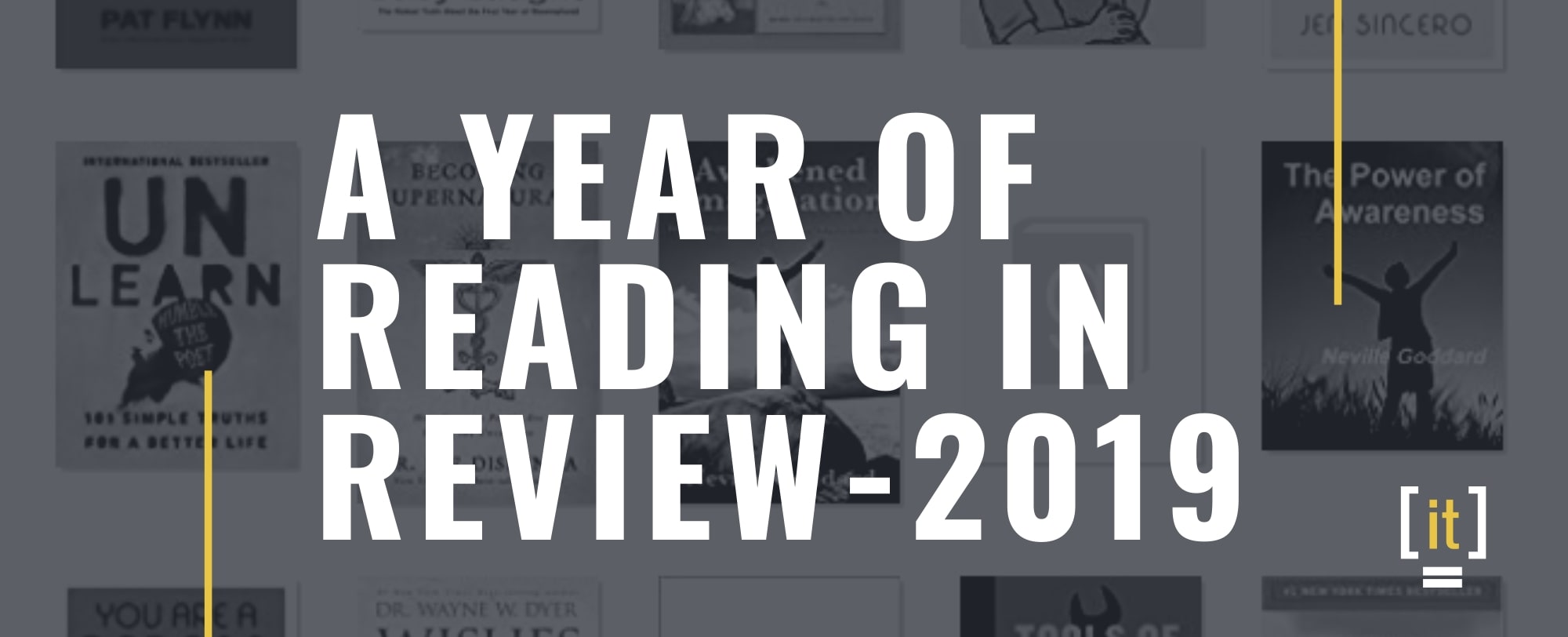 A Year Of Reading In Review – 2019
Posted by Peter McHugh
On January 16, 2020
In 2019 I set a goal to read 30 books which is a LOT for me. I'm usually a casual reader who may finish 3-5 books per year so I knew when I set this goal that it would take some work to accomplish. Ultimately, I fell seven books shy of my goal, but in reality, I accomplished so much more than I would have ever thought. I started the year with a bang, reading every type of personal development book I could get my hands on. At one point I was gloating because I was 3 books ahead of pace.

Then we found out that we were expecting a baby girl and that slowed my progress a bit and it definitely changed the content of what I'd be reading. Despite all the excitement, I was still able to read more books than I have any previous year, including a few pre-baby titles. And with every book, comes a whole lot of lessons to put into practice…

My Top 4 Must-Reads from 2019

A New Earth – Eckhart Tolle
How to be an Imperfectionist – Stephen Guise
Declutter Your Mind – S.J. Scott
Everybody Writes – Ann Handley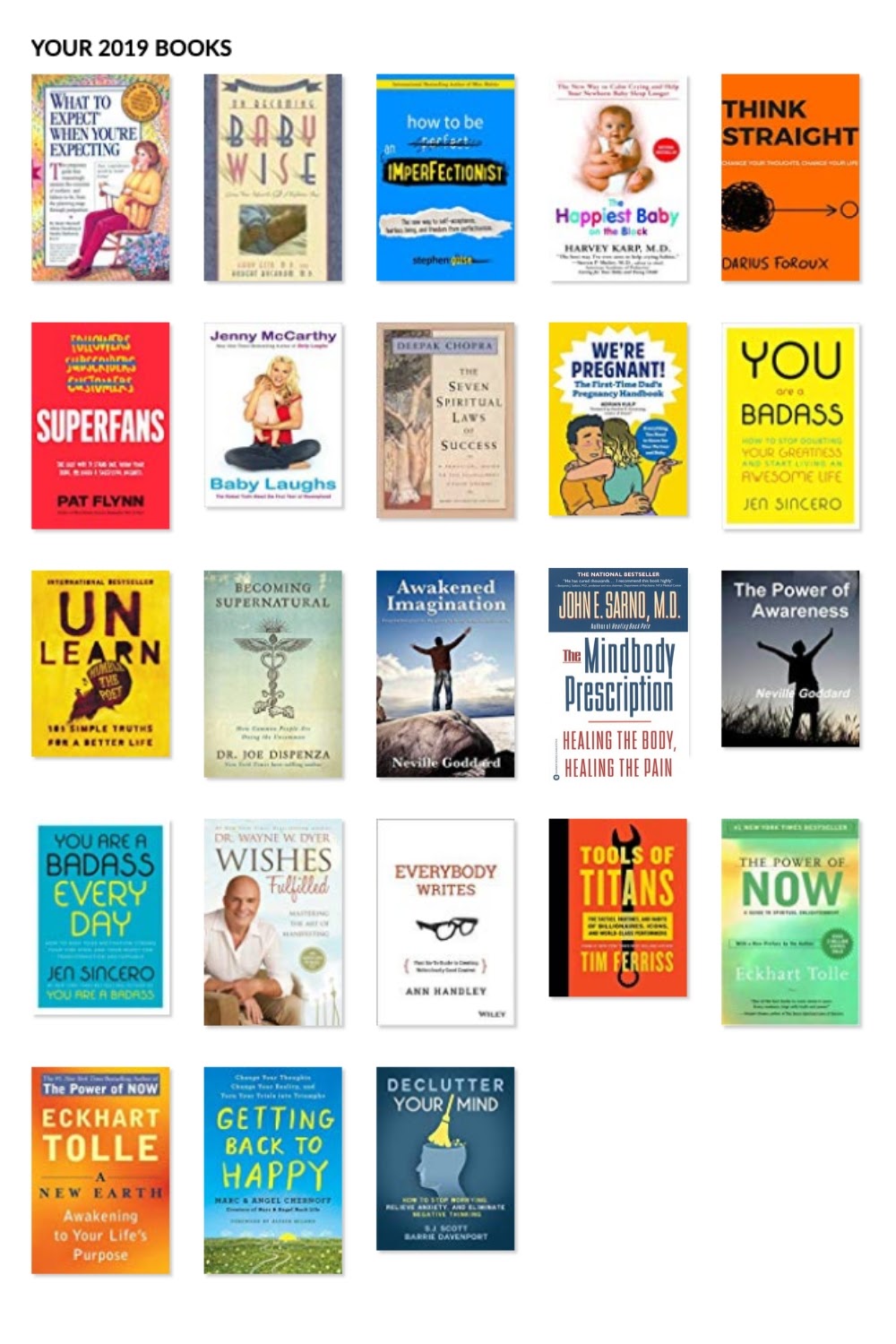 My number one must read from 2019 was A New Earth by Eckhart Tolle, in fact, we are only a few days into January and I just finished re-reading the book. This is the kind of book that you can keep coming back to and get something out of every time. I think that's something I really enjoy about personal development books; the lessons you learn while reading them are really dependent upon the moment you are in and what is going on for you personally at the time.

How to Be an Imperfectionist was one of the last books I read last year and it really hit home. If you suffer from perfectionism and find yourself not finishing things – or worse, not starting things – because you are waiting for perfection, then this is a MUST READ. This book details the root of perfectionism, how it manifests itself in your life, and step-by-step habits to put into practice so you can "become an imperfectionist."

For the self-marketers out there, I think Everybody Writes is a must-read. And in reading the book, you'll realize that these days, we are ALL writers whether we consider ourselves writers or not. This book is full of tips, concepts, and insights that will make you a better writer. As someone who is constantly creating content and marketing materials for my audience to consume, this book was incredibly insightful and immediately applicable.

Declutter Your Mind was another book with immediately applicable concepts. If you are looking for a book to read to kick off the new year with a bang, this book is an easy read and loaded with advice and activities you can start to implement right away that will improve your productivity and peace of mind. I read this at the start of 2019 and you'll find that we talk about a ton of these concepts in our blogs and podcasts because they are super helpful for the self-employed business owner.

In Summation…
These books definitely taught me a lot of lessons to implement in the new year and I look forward to diving into my 2020 reading goals. This year, I'm sticking with the 30 book challenge because I really want to hit it and know that I can make it happen if I put my mind to it. I may have a few re-reads on my list, like "How to Win Friends and Influence People," a classic that I try to read every couple of years to refresh myself on the age-old concepts that book shares on relationships and success in life.

For those of you who've been meaning to read more, challenge yourself to read a certain number of books this year and let's hold each other accountable. The key to getting your reading done is to make time for it regularly and to have a list of books that you want to read so that you always are a few books ahead of yourself on what is coming next. There were a few times this year when I finished a book and a few weeks would go by before I realized I didn't have another book on deck to read. So I recommend planning a few books ahead and always looking for new books to add to the list. Reading is a great way to take a break throughout the day, clear your thoughts, learn and grow. Let's make it happen in 2020!

And I'm also always looking for recommendations and would love to hear what personal development and business books you might recommend. Share in the comments your favorites and I will be sure to check them out! And as always, I'll be sure to share my book reviews throughout the year as I find titles that really speak to me which I think you might enjoy.

Happy reading, DOers!!