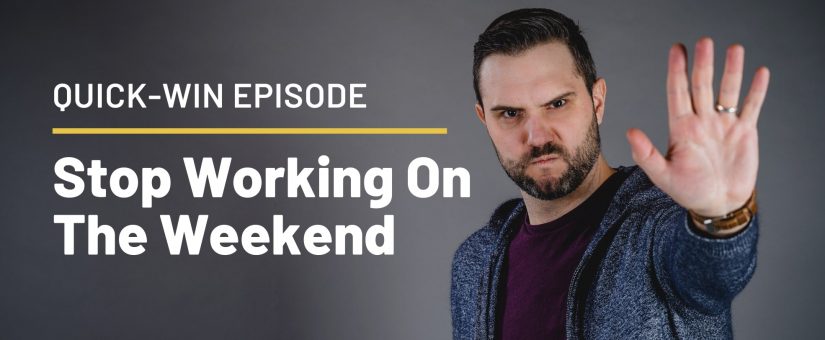 Quick-Win Episode 4: Stop Working On The Weekend!
Posted by Alessandra Kaminski
On February 18, 2020
Episode Summary
We hear it, I say it, and we all do it – but using personal time is not the way to "get ahead."

First of all, getting ahead rarely leads to more free time or making more money and secondly, for most of you that terminology of "getting ahead" is hollow.
Unless you have a strict schedule of work – but most of us just flow with what's happening.
*NOTE: If you work in certain industries, your business relies on the weekends, which is not what we are talking about. Maybe your "weekend" is Tuesday/Wednesday, but whatever it is TAKE IT OFF!
TAKE CONTROL OF YOUR SCHEDULE
If you find yourself working all the time it's because YOU allow that to happen. You are always setting expectations for your clients. If you are always available, that's what they'll expect and then you always need to be available. If you set boundaries and tell your clients when they can contact you and when they can expect to hear from you, they'll understand and expect that. The hard truth is, YOU are the one allowing your business to control your schedule and it doesn't have to be that way.
YOU NEED TIME AWAY FROM YOUR BUSINESS
-You'll have more energy
-You'll come up with great ideas
-You'll spend time recharging your personal life and friendships
-You'll resent work-time less when you allow yourself free time
-You'll remember WHY you work so much
YOUR GOAL SHOULD BE TO CREATE A BETTER LIFE
-The whole reason you're in business is to live your life!
-Take yourself seriously → this shouldn't be work vs. life…this is just one big life.
-Weekend work is usually due to an inefficient work week or procrastination, which leads to stress.
STOP ALL CLIENT OR TEAM CORRESPONDENCE DURING ALL NON-WORK HOURS
-We've all been guilty of it, but DON'T DO IT…otherwise, you're self-sabotaging your time and setting the wrong expectations
Quick-Wins
Commit to giving yourself time off
Create boundaries for yourself and your clients
Don't check emails on your weekend
Host Bio – Rhi and Pete [Rhi-Pete – now you'll remember] are a wife and husband team who have been in business together for over a decade. They run a creative media agency [Do Something Different Media] that provides strategy and consulting, video production, website development, photography, graphic design, and content writing for small businesses.
Recommended Resources
-THINGS TO HELP: Set SLEEP mode on your phone, use a scheduler for email correspondence, don't reply to things during non-work hours. Your dentist wouldn't answer the phone at 8pm, neither should you!