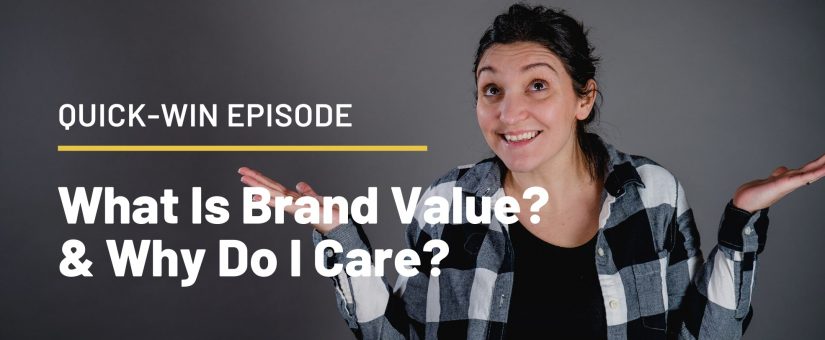 Quick-Win Episode 5: What Is Brand Value? & Why Do I Care?
Posted by Peter McHugh
On March 4, 2020
Episode Summary
Brand value is a very important thing to understand, especially when you're a SEBO who is on your own.

It's also very important to the business owner who is looking to revamp themselves due to inefficiencies in their pricing, marketing, and overall brand image.

We assume that you're awesome at what you do. There's a ton of people who are really awesome at a lot of stuff. But what's going to get you into the conversation with bigger markets, clients, affiliates and frankly more overall business — is how legitimate people feel you are — based on your branded marketing materials.

You've been there. Someone refers you the name of a company for a cleaning service and you immediately google them. First, I check their website to see if they're "legit"…and that's the key thing. We're all looking for legitimacy.

Then, I might head to see if they're active on social, check online reviews and etc.

Have you ever looked up a business and found they had no logo? Or their logo looks like your nephew made it? When you see a low-quality brand it tells you that the business didn't invest a lot of money into the way they look. And if a company doesn't care enough about how they look to invest in it…I assume they aren't a very profitable business…which probably means they aren't very good.

Think of it like hiring a new employee. Potential Employee A sends in a typed resume with a nice photo of themselves and a portfolio of their work. They show up to the interview dressed professionally and present themselves well. Potential Employee B scribbled their past experience on a napkin and shows up in pajamas. They could both be equally qualified and skilled, but there is no doubt one of them has a higher perceived value and THAT person is getting the job.

Is your business wearing pajamas?

Perception is everything!
Quick-Wins
How would a stranger value your brand? Audit your brand and see where you can find any deficiencies.
Host Bio – Rhi and Pete [Rhi-Pete – now you'll remember] are a wife and husband team who have been in business together for over a decade. They run a creative media agency [Do Something Different Media] that provides strategy and consulting, video production, website development, photography, graphic design, and content writing for small businesses.